Temple of Alexander, southwest of Bawiti, is one of the few places in Egypt where Alexander the Great's cartouche has been found.
Tomb of Bannentiu: This tomb consists of a four-columned burial chamber with an inner sanctuary and is covered with beautiful reliefs depicting Bannentiu in various positions with the gods.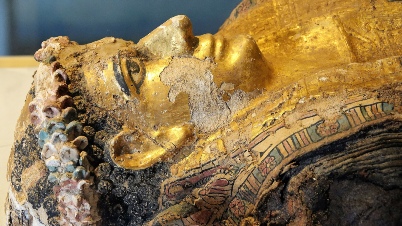 The Valley of the Golden Mummies is a huge burial site in the Bahariya Oasis in the Western Desert of Egypt, dating from the Greco-Roman period. Discovered in 1996 by Zahi Hawass, about two hundred and fifty mummies, some two thousand years old, were recovered over the period of several seasons.
The mummies found in the tombs in Bahariya Oasis during the Roman period show that people were wealthy during that time, as they could afford gilding and cartonnages with beautiful scenes.
Mummy find in the Valley of Golden Mummies is now in el-Bawiti Museum in Bahariya.